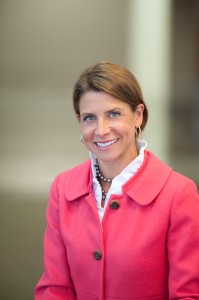 KIRSTEN MARTIN (CV) is an assistant professor of Strategic Management and Public Policy at the George Washington University's School of Business. She is the principle investigator on a three-year grant from the National Science Foundation to study online privacy.  Dr. Martin is a member of the advisory board for the Future Privacy Forum and the Census Bureau's National Advisory Committee for her work on privacy and the ethics of Big Data.  Dr. Martin is a fellow at the Business Roundtable Institute for Corporate Ethics for her work on stakeholder theory and trust.  She earned her B.S. Engineering from the University of Michigan and her MBA and Ph.D from the University of Virginia's Darden Graduate School of Business. Her research interests center on online privacy, corporate responsibility, and stakeholder theory.
CURRENT PROJECTS
Addressing Privacy Online (3-year NSF funded project).
Mobile Privacy in Context (1-year study funded by ADVANCE) with Katie Shilton (UMD).
Trust in Business.  With Michael Pirson (Fordham) and Bobby Parmar (UVA/Darden) funded by Business Roundtable Institute for Corporate Ethics.
UPCOMING EVENT DETAILS
September 30, 2015. "Measuring Privacy" w/ Helen Nissenbaum at Privacy Research Group at New York University.
October 16, 2015. "Contracting Over Privacy" conference at the Coase-Sandor Institute for Law and Economics at the University of Chicago Law School.
November 21, 2015. "Business, Algorithms, and Responsibility" Open Data Symposium at the New York University.
RECENT EVENTS
April 2015. Taking Responsibility for One's Own Data Privacy and Security–Is it Possible, and How?" conference at the Center for Technology, Innovation and Competition at the University of Pennsylvania Law School.
April 2015. Understanding The Implications Of Open Data at Open Data: Addressing Privacy, Security, and Civil Rights Challenges. Invited Panelist. Univ. of California Berkeley Center for Law and Technology. https://www.law.berkeley.edu/17852.htm
April 2015. Privacy in an Era of Big Data conference. Invited Panelist. Temple University Fox School of Business. fox.temple.edu/nsfworkshop


...

October 2014 "Consumer Privacy Expectations Online" University of Maryland.
September 2014. "Who is tracking you online and should they stop?" University of Buffalo.
August 2014.  "Ethics of Big Data Industry" American Statistical Association Annual Meeting.
June 2014.  Trust and Privacy in Mobile Apps.  Privacy Law Scholars Conference.
May 2014, Panelist on the Ethics of Big Data. American Association for Public Opinion Research.
April 2014. Mobile Privacy in Context. Future Privacy Forum. Washington DC.
March 2014. Individual and contextual factors in meeting privacy expectations. Carnegie Mellon University.
March 2014. Individual and contextual factors in meeting privacy expectations. New York University.