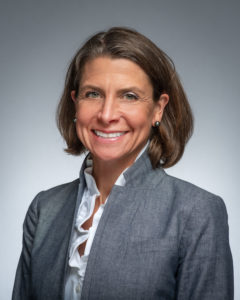 KIRSTEN MARTIN (CV) is the William P. and Hazel B. White Professor of Technology Ethics and is Professor of IT, Analytics, and Operations in the Mendoza College of Business at the University of Notre Dame.  Starting July 2021, she is the Director of the Notre Dame Technology Ethics Center (ND-TEC).
She researches privacy, technology, and corporate responsibility. She has written about privacy and the ethics of technology in leading academic journals across disciplines (Journal of Business Ethics, BEQ, Harvard Journal of Law and Technology, Journal of Legal Studies, Washington University Law Review, Journal of Business Research, etc) as well as practitioner publications such as MISQ Executive.  She is the Technology and Business Ethics editor for the Journal of Business Ethics and the recipient of three NSF grants for her work on privacy, technology, and ethics.  Dr. Martin is also an affiliate of Northeastern University's Center for Law, Innovation and Creativity and a member of the advisory board for the Future Privacy Forum.  She is regularly asked to speak on privacy and the ethics of big data, including her recent Tedx talk.  She has a forthcoming book, The Ethics of Data and Analytics (Routledge). 
 She earned her B.S. Engineering from the University of Michigan and her MBA and Ph.D from the University of Virginia's Darden Graduate School of Business
CURRENT PROJECTS
Legitimacy and AI Decisions with Ari Waldman
Manipulation, Choice, and Privacy.  Albany Law Review
New book: Freeman, E, Martin, K and Parmar, B. In Press – Spring 2020.  The Logic of AND: Responsible Business without Trade-Offs. Columbia University Press.
UPCOMING EVENT DETAILS
May 2021.  AI/Data Science/ML in Recruiting, Admissions, and Supporting Retention. National Academy of Engineering Sharing Exemplary Admissions Practices workshop.
RECENT EVENTS
April. 2021. Privacy and Contextual Integrity. SIGIEP Privacy Panel. April 2021.
December 9, 2020.  Re-Imagining the Digital Age.  Panelist.
April 21-22, 2020. Speaker. Global Solutions Summit (Policy Summit for G20). Berlin (virtual).
January 28, 2020. Panelist.  Federal Trade Commission (FTC) "You Don't Say: An FTC Workshop on Voice Cloning Technologies"
January 21, 2020. Invited Talk.  University of Notre Dame.
November 2019.   Distinguished Lecture on Big Data Law and Policy.  The Ohio State University.
November 2019. Manipulation, Privacy, and Market Failures. Northeast Privacy Conference.  (Princeton, NJ).
October 2019.  "Deep Fakes". National Press Club. Notre Dame Technology Ethics Center.
October 2019. "The New Debate on Corporate Purpose: Shareholders vs. Stakeholders" New York University Law School.